South Korea opens the door for robots to roam among pedestrians
They'll have a top speed of 15km/h and need insurance before they roll
Korea's Ministry of Trade, Industry and Energy and the National Police Agency today opened applications for operators of mobile robots for patrol and delivery duties alongside pedestrians.
Up until now, mobile robots were not permitted on South Korean sidewalks. Revisions in laws will allow their presence if they are insured, weigh less than 500kg and don't go faster than 15km/hour.
The robots also have to pass a 16-point test that checks their compliance against criteria like staying within designated operating zones and navigating pedestrian crossings. If they pass, they get a safety certification.
But while technically the robots could be allowed to intermingle with humans in public spaces, it will likely take a month before Koreans start seeing them.
The Ministry is yet to designate a governing body for the robot certification, but is accepting applications for selection within a month. The insurance products are also still being developed by the Korea Robot Industry Association in conjunction with private insurance companies. Those products are expected to be released next month, promised the Ministry, and will include compensation if bots hurt humans or cause damage.
The Ministry indicated the onus of safety will fall on the outdoor mobile robot operators, who will also be subject to normal traffic laws. For example, a jaywalking robot could receive a $23 fine.
The insurance component could end up being vital. Earlier this month a robot at a produce-sorting facility in Korea crushed a man, killing him when it mistook him for a box of peppers. And while most robots don't murder their human counterparts, an admittedly pre-COVID (meaning forever ago) 2017 Korean study concluded industrial robots' actions were the cause of 30 to 40 accidents per year.
However, its silly to blame the robots themselves when they are merely obeying their programming – at least while AI remains in its infancy. A 2021 Korean study of industrial robot hazards found two thirds of injuries occurring from robot accidents could be traced back to the traits of the robot operators themselves.
South Korea's government predicts some initial apprehension from citizens mingling with the mobile robots. It's urged them to remain calm if a robot approaches them and not deliberately hinder movements or damage the machines.
Given the increased prevalence of non-humanoid robots across Asia – in restaurants, hospitals and other public places – it's likely the citizens will quickly adapt.
The government released a picture of a potential delivery robot that appears to be no more than an automated mobile box on wheels.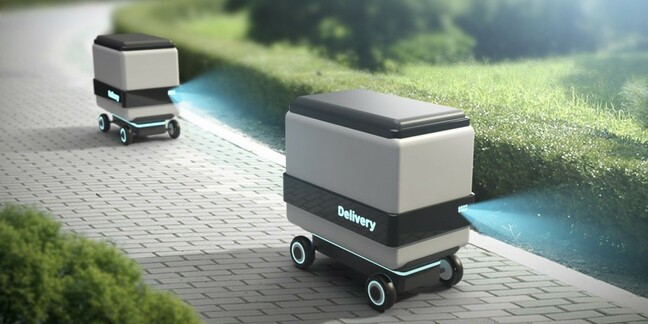 South Korea's mobile robots on footpaths – Click to enlarge
However, it is likely this is only the beginning of robot integration in Korea. The Ministry revealed it is developing an "Advanced Robot Industry Vision and Strategy within the year to foster related industries so that various new businesses utilizing outdoor mobile robots can become more active." ®