Control Altman delete: OpenAI fires CEO, chairman quits
Chief gets upgraded to customer – LLMs may be coming for your job but the board came for his
Final update OpenAI's board of directors just fired CEO Sam Altman for not being "consistently candid in his communications."
CTO Mira Murati has been appointed as the interim CEO to lead the lab in the meantime as the board finds a new boss.
In a statement Friday, the board of directors said: "OpenAI was deliberately structured to advance our mission: to ensure that artificial general intelligence benefits all humanity. The board remains fully committed to serving this mission. We are grateful for Sam's many contributions to the founding and growth of OpenAI. At the same time, we believe new leadership is necessary as we move forward."
Altman, an OpenAI co-founder, was ousted after the board carried out a probe and concluded he had not been completely honest and forthright in his conversations with the directors, leading to a lack of confidence in his abilities to continue as CEO. 
The move comes as a shock. Launched in 2015 as a not-for-profit focused on fostering artificial general intelligence with the short-lived backing of Elon Musk and a culture of openness, the upstart was transformed by Altman into a secretive for-profit biz. A number of OpenAI staffers later hit eject, and got together to form rival AI lab Anthropic, we note.
OpenAI is seen as a leader in generative AI technology, and was the first outfit to commercialize large language models in a big way with its GPT family. 
Since then, OpenAI has developed many other types of AI models with other generative capabilities, such as its text-to-image DALL-E, code-writing Codex used in GitHub Copilot, and more – including ChatGPT, its most well-known product.
Under Altman, the startup's valuation catapulted as it attracted billions of dollars from investors. Its largest backer Microsoft splashed what is believed to have been $10 billion on a deal with OpenAI that gave the IT titan a 49 percent stake in the upstart, and at one point the lab was valued at $29 billion.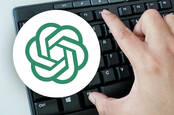 Microsoft hits Alt+F4 on internal ChatGPT access over security jitters, irony ensues
READ MORE
At the same time, Microsoft has been keen to slap its own branding over OpenAI's technology as the Windows and Azure giant integrates the lab's neural networks into every corner of its products and services, from Bing to Windows. And at one point even labeled ChatGPT as a security risk.
Altman's sudden exit comes just as OpenAI talked up its app-store-like marketplace for applications built on top of its AI chatbot ChatGPT.
Nothing seemed amiss as Altman announced various services and updates during the US-based lab's first developer conference this month.
Prior to this, he was flying around the globe talking to world leaders about the upsides and downsides of AI as governments work towards crafting policy to regulate the technology. On Thursday, Altman showed up at the high-profile Asia-Pacific Economic Cooperation conference in San Francisco, attended by US President Joe Biden, China's President Xi Jinping, and many others. 
On Twitter, Altman said: "I loved my time at OpenAI. It was transformative for me personally, and hopefully the world a little bit. Most of all I loved working with such talented people ... [I] will have more to say about what's next later."
I loved my time at OpenAI. It was transformative for me personally, and hopefully the world a little bit
But behind closed doors, it must have been a different story for the board to dump him. Perhaps it had something to do with the massive costs involved in training and running powerful state-of-the-art models, the outages and capacity issues, and the harvesting of training data sourced from the internet as well as the need to put guardrails around the output.
Perhaps it had to do with Altman constantly crying about the potential for AI to destroy society – fears some experts have said are overblown – and heralding a general form of artificial intelligence no one in their right mind would want.
Perhaps there was tension over the for-profit, commercialized direction the super-lab was heading as opposed to its not-for-profit roots.
"We believe new leadership is necessary as we move forward. As the leader of the company's research, product, and safety functions, Mira is exceptionally qualified to step into the role of interim CEO," the board said of the CTO. "We have the utmost confidence in her ability to lead OpenAI during this transition period."
OpenAI's board of directors include its co-founder and chief scientist Ilya Sutskever; Quora CEO Adam D'Angelo; entrepreneur Tasha McCauley, and Georgetown Center for Security and Emerging Technology's Director of Strategy and Foundational Research Grants Helen Toner.
Co-founder Greg Brockman was chairman of the board, and will be stepping down from that position as part of the reshuffle, we're told. According to OpenAI, he will remain employed at the biz. ®
Updated to add
It looks like OpenAI spoke too soon: after Altman was fired, Brockman announced he too would be leaving the business. He was president as well as chairman of the board.
"After learning today's news, this is the message I sent to the OpenAI team," he said on social media.
"I'm super proud of what we've all built together since starting in my apartment eight years ago. We've been through tough and great times together, accomplishing so much despite all the reasons it should have been impossible.
"But based on today's news, I quit."
Also, Altman may be joining Microsoft at this rate.
Final update on November 22
Sam Altman is now heading back to OpenAI.