Linux Deepin's big brother claims it's hit three million installs
The other big Chinese distro, after Kylin, seems to be thriving
Leading Chinese Linux vendor UnionTech says it's reached an impressive milestone: it says it has three million users of its desktop edition, Tongxin UOS. Yep, million.
Tongxin Software's announcement is almost entirely in Chinese, so here's a Google Translated version which might be more help. The Reg FOSS desk's abilities in Chinese are extremely limited, but it seems to say:
The record for the number of hardware and software adaptations of a domestic operating system was broken by Unisys UOS!
According to the latest official data, the number of hardware and software adapters for UOS has officially exceeded three million.
It has become the first operating system in China to achieve this goal.
Tongxin Software offers several different Linux distributions, including paid-for server and desktop editions of UOS (which could stand for Unity OS or Unified OS, depending on how you translate 统一操作系统) and the freeware Linux Deepin. We think that what this means is that they've reached three million installs of their paid version, which is born out by the banner on the distro's homepage (translated version) which claims 3,286,889 desktop instances and 592,555 server ones.
This is not a huge number considering the size of the potential Chinese market – it's a fraction of a per cent – but as with any paid Linux distro, typically the users of the free versions outnumber the paying ones many times over. For instance, TrueList estimates that there about 10 times as many CentOS and Fedora users as RHEL customers. If Deepin has comparable numbers vis-à-vis UOS, that would mean some 30 million users, which is comparable to the worldwide users in the report above.
The Reg FOSS desk has looked at Deepin a couple of times in recent years: we checked out version 20.5 and later 20.6 and the beta of Deepin 23.
Progress seems to be relatively slow: the stable version is now version 20.9, released in April this year, and version 23 is still in beta testing, with 23 beta 2 appearing as recently as September.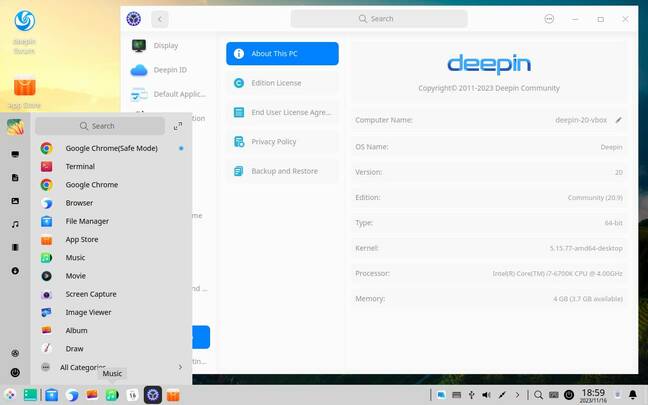 Linux Deepin 20.9 has a very colourful, Windows-like desktop, with few visible traces of its Chinese origins (click to enlarge)
We took a quick look at both, and they don't seem to be radically different from last year's releases – as the announcement says:
This version does not integrate new system functions, but mainly focuses on fixing and optimizing stability issues present in the 20.8 version, in order to ensure system stability.
The Deepin Desktop Environment uses the kwin window manager from KDE 5, and version 20.9 updates the Qt toolkit to version 5.15.8. There's a long list of bug fixes, but the only components called out for specific updates are the Log Viewer, Photo Album, and the Draw app. We tried it in VirtualBox, and as with previous releases, it detected this and complained about it, but it worked smoothly. It offers a choice of kernel 5.15 or 5.18; we chose the newer one, but got the older one – but that's fine, as it's a long-term release anyway.
Deepin 23 beta 2 is a slightly bigger change, but not dramatically so. It claims 450+ bug fixes, and we counted 39 new features listed, but they're all relatively small ones. Unlike release 20, it didn't complain about running inside a VM, and it offers a bigger selection of themes and appearance options to tweak. This version of DDE uses Qt version 6.4 and kernel 6.1.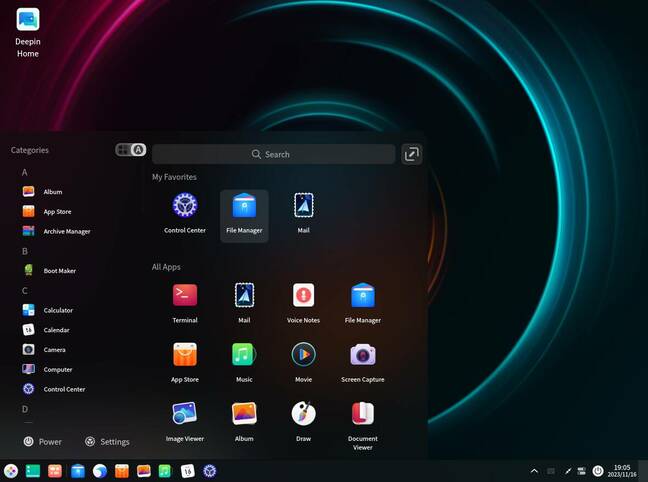 Deepin 23 is shaping up nicely, if slowly, and has a versatile Windows-like desktop with tablet-like touchesn (click to enlarge)
Both are still Debian-based, and we note that the website for the promised new Linglong packaging format has gone dark, although the app store site is still up. Being Debian-based is no bad thing, nor is the compatibility it brings. For instance, we were able to install the VirtualBox Guest Additions from the hypervisor's own ISO image, and they worked smoothly and quickly in both versions, with the desktop automatically resizing to fit the guest window.
There are some small isues with installing in English. During installation, there's a limited choice of regional language and keyboard variations: we had to choose an American keyboard and localization. However, post-install, you can add a UK keyboard and British English translation, and remove the US variants. Version 23 Beta 2 immediately found an update available when we rebooted, and although it was just a few megabytes in size, installation took a surprisingly long time.
The App Store in both versions contains common commercial and proprietary apps, such as Google Chrome (although naturally this is the Chinese edition). We were happy to find the Ferdium chat app in there, too.
Deepin is an attractive, polished distro, with a good and visually coherent set of applications. The English language localization is good, if not universal: for instance, when you first log in, it plays a professional-looking welcome video, the text in which is almost entirely Chinese. It's much more than a demo or proof of concept, though: it is still one of the most attractive-looking distros we've seen, and its themes, wallpapers, startup and shutdown animations, and so on outshine any Western distro. It works, and works well. We don't have the hardware to test it, but there are also editions that support China's home-made families of CPUs, including the Loongson range.
If you're worried about built-in Chinese government spyware, then there's also the Ubuntu-based Ubuntu DDE remix, which we also looked at last year. That's now got up to version 23.04, and we suspect that a 23.10 release will appear before the current one goes end-of-life in January.
We can't find much information about Linux adoption in China, or how well its government's 3-5-2 program is going. If UnionTech is proud enough to shout about three million users in 2023, when the switchover program was meant to be finished last year, possibly not very well. Even so, if our back-of-an-envelope calculations are anywhere close to reality, UOS's Chinese Linux market share could well be as big as that of the whole rest of the world. And UOS is just one player in the Chinese Linux market, so overall, the total Chinese market would be considerably bigger. Kylin and openKylin constitute another big one, and as the Reg's look at it revealed, openKylin is an Ubuntu remix. Meanwhile, Huawei is a significant player too: its EulerOS and OpenEuler distro are based on CentOS Linux, and the company had a noticeable presence at this year's Open Source Summit in Bilbao. LWN reports that Huawei was the top contributor to kernel 6.1 by the number of changes. We hope for its own sake that the Open Enterprise Linux Association is trying to get Huawei on board. ®